The dark grey secrets of passion
Our philosophy: SOFT BDSM toys of the highest quality!
ST RUBBER connoisseurs know that we have been offering a wide range of BDSM toys and equipment with our own brand XX-DREAMSTOYS for a long time. With STEAMY SHADES, we are now launching another brand for friends of extravagant love. A brand that is aimed specifically at beginners and the curious.
After all, no master has fallen from the sky. In this sense, one of the special features of STEAMY SHADES is its beginner-friendliness. The selected products and kits signal: "Just try it out. It doesn't have to be a Shibari high performance right away!" STEAMY SHADES offers an elegant introduction to the world of BDSM. Sensual, captivating and also feasible for the less experienced. At the same time, STEAMY SHADES is also appealing to all those who are looking for some variety. Not always. But maybe more often. The STEAMY SHADES range currently includes over 40 products and is constantly being further developed. The innovative products appeal to all the senses. Shiny gray satin fabric with black lace makes each product an elegant accessory for your bedroom.
There is something attractive for every taste. Elegant in design and highly functional, thanks to strict test guidelines of extraordinary quality in the choice of materials and workmanship - it simply couldn't be less. After all, STEAMY SHADES is a brand from a good family.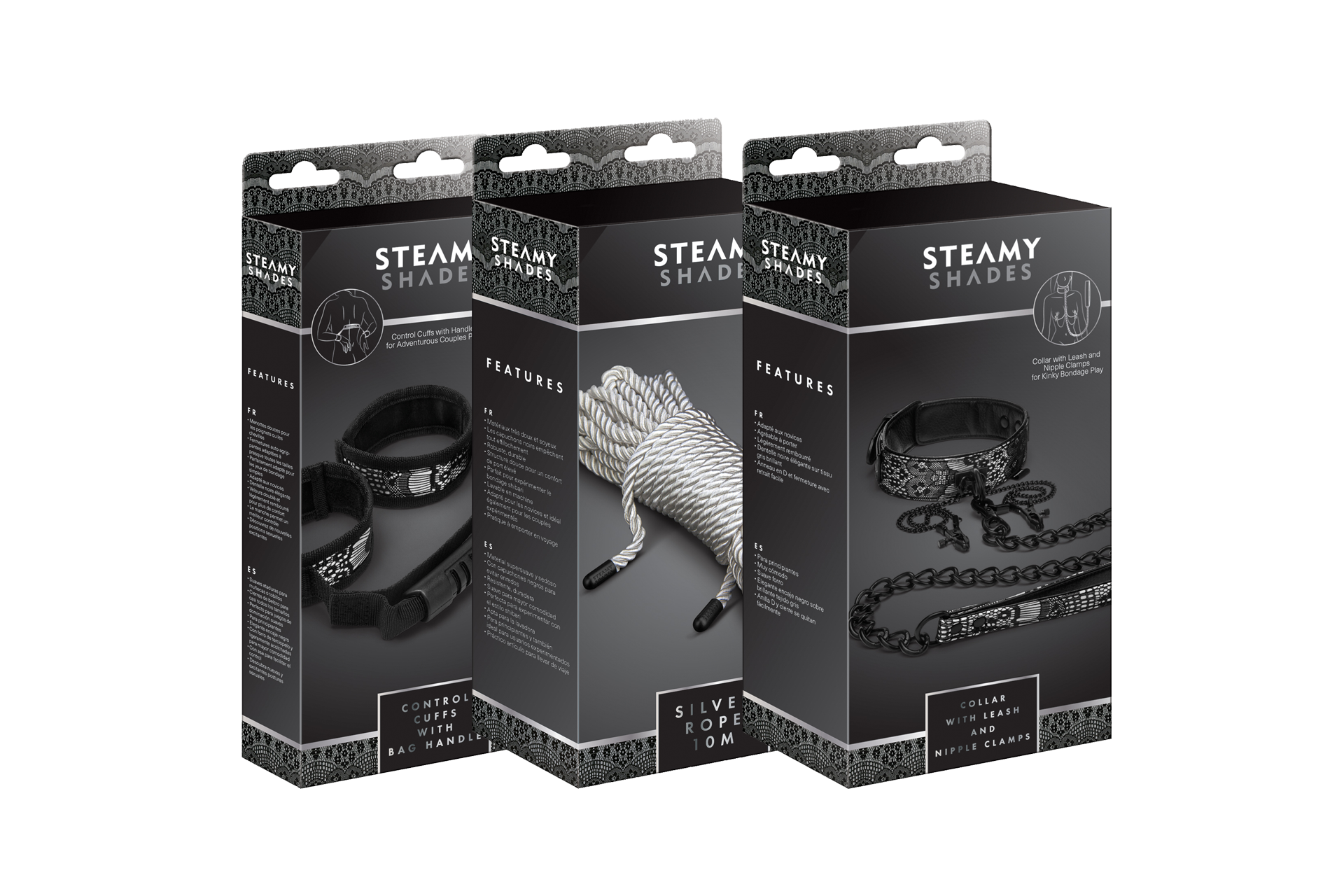 Luxurious & exclusive packaging
All soft BDSM products from STEAMY SHADES are sold in a sales-boosting packaging with a unique design. In addition to different languages, you will of course also find how-to-use pictures on the packaging. The unpacking experience is rounded off with an impressive feel!
SIGN Award 2016
Best Fetish Line 2016: STEAMY SHADES
EAN Erotix Award 2017
Soft BDSM Line of the Year: STEAMY SHADES
EAN Erotix Award 2019
BDSM Brand of the Year: STEAMY SHADES